COMMISSION CASE STUDY
Corporate memory box
Rectangular walnut-framed Memory Box containing a collection of vintage audio parts and repair-shop tools celebrating the history of East London electronics workshop, Armstrong Audio.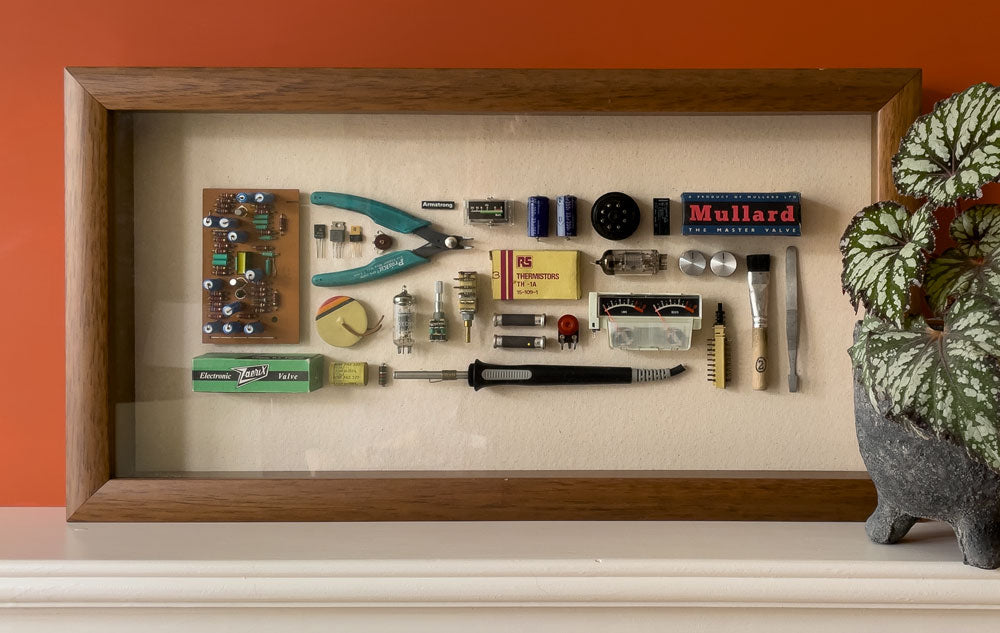 "Pippa created a keepsake picture frame using tools and parts that our audio engineers use. The picture is beautiful and really helps to reflect the craft and skill that goes into restoring vintage audio equipment. It now has pride of place in our shop and it's proved to be a great way of engaging our customers and sparking a conversation." 
Shamil Joomun, Armstrong Audio
Armstrong Audio is an electronics workshop and coffee shop in East London. Established in 1932 as Armstrong Wireless & Television Ltd, they were initially involved in manufacturing public address systems, radios and televisions during WWII, before moving into a range of home radios, amplifiers and receivers during the 1950s - 1970s. They are particularly renowned for the 600 Series amplifier. Armstrong Audio is now known as a leading audio repair specialist and later a coffee shop was added to their workshop.
THE JOURNEY
I got to know Shamil and his family when they were my local coffee house. Each morning while my coffee was being made I would peep through into the workshop, trying to catch a glimpse of the organised chaos of vintage radios waiting for repair, the trays and drawers of replacement valves, amplifiers and dials. I longed to go and have a good look round, imagining the bespoke box I could make with all those bits and pieces.
I showed one of my Curious Collections to Shamil and asked whether he would be interested in collaborating in creating a special vintage audio parts and tools Memory Box. To my delight he was really keen, so we arranged a time for me to come to the workshop and go through all their drawers of vintage parts and take what I thought would work well in the collection. It was an absolute dream project. I loved all the boxes the dials and valves came in, which were so colourful and with such striking typography.
I went away with all the items I'd picked out and lots of photographs of the workshop. I really wanted the collection to be a snapshot of their work benches, which lead to the title 'A Day in the Workshop'. 
I began the process by establishing the size and orientation. As we had many thin items which were best suited to being displayed horizontally, we settled on a double-width landscape Memory Box.
The Armstrong Audio team had allowed me to select such a varied collection of items I was really able to play with textures and colours across the composition, so I decided on a mix of tools and parts to represent their business. I also really like the connection between the layout of the items to the layout of the circuit board included within it.
The final composition was shared with Shamil and his family, who were thrilled with the artwork that had been created and couldn't wait to get it up on the wall.
THE RESULT
The end result is a beautiful Memory Box, giving viewers a snapshot of the heritage and craftsmanship that Armstrong Audio represents. The finished piece went on show at their pop-up with Blackhorse Lane Ateliers in Coal Drop Yard before being returned to hang in the workshop.
THINKING ABOUT A COMMISSION
A bespoke Memory Box is a beautiful way to celebrate a collection of precious keepsakes, to honour the memory of a loved one, or to celebrate a milestone in life, such as marriage or civil partnership, birth of a child, a big birthday or a retirement. Do you have a box of sentimental items hidden away? Dust them off and get in touch. Together we could create a unique piece of art that keeps memories alive and brings a smile to your face every day.