Commission Case Study
New born memery box
Small walnut-framed Memory Box containing a collection of sentimental keepsakes celebrating the first year of baby Clem's life.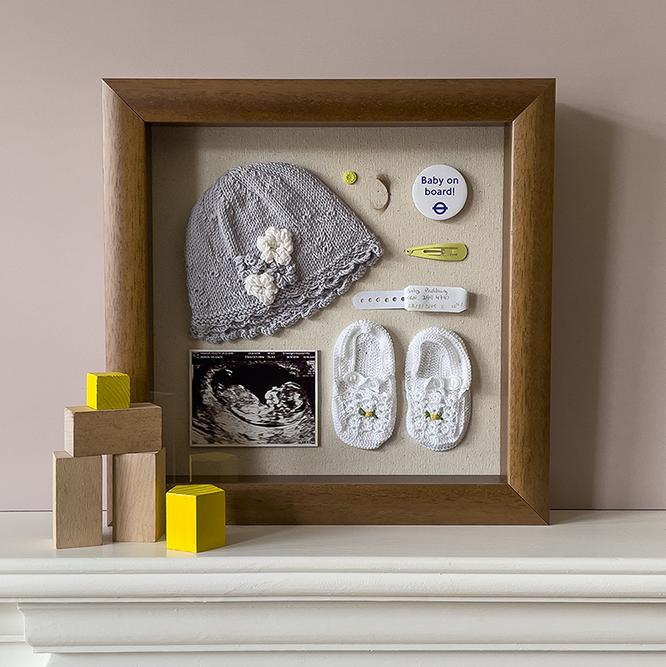 "The memory box feels like such a timeless way to showcase a special moment in time. The curation and presentation are such beautiful quality and made for precious keepsakes for our daughter's nursery now and forever for her to keep." 
Felicity, a writer living in South London, got in touch after seeing my bespoke Memory Boxes on social media. She and her husband wanted to create a Memory Box with all the mementos they had been keeping since the birth of their first child. Getting those tiny, precious items out of storage and seeing them transformed into a Memory Box to hang in their newly decorated nursery felt like the perfect way to celebrate Clem's first birthday.
OUR JOURNEY
Felicity knew that she wanted a small Memory Box from the outset, so we began the process by talking about what kinds of items would fit best. These were then packaged up and posted to me. A week later a little package arrived filled with the most adorable, tiny baby items you could imagine. A beautiful crocheted hat and booties, made for Clem by her Grandma, her dinky little hospital wristband, a baby scan photograph and a lock of hair from Clem's first haircut, to name just a few. The cohesive colours and style spoke volumes about the beautifully curated life they have, and I felt honoured they chose to entrust their treasured items to me.
I trialled a few different arrangements trying to get as many items in as possible. Some had to be discounted as they were too dominant for the space we had. We quickly settled on the preferred arrangement, but there were a couple of gaps, so I asked Felicity if she minded going back into her collection of keepsakes to find another item, 1cm or smaller and preferably yellow to balance the colours. In no time at all and she came back with a perfect little button and a hair clip.
Layout approved, I moved on to thinking about how to attach some of the items as there were a couple of materials I hadn't worked with before, so more research was required. In the case of the crocheted hat the best way for me to preserve it (and ensure it was fixed well) was to stiffen it by sewing in some acid-free mount board, before sewing it onto the backing. The hair proved to be even trickier, possibly the trickiest thing I've ever worked with. Small, fine and silky smooth, getting it to do what I wanted was really difficult. In the end I secured it with a twist of wire around the middle and used some hairspray to give it grip.
With the layout secured, I looked into framing choices. Although Felicity initially preferred a light oak finish, we eventually agreed a walnut deep frame I have used successfully in the past would be best.
THE END RESULT
The result is a beautiful Memory Box that hangs in pride of place in Clem's newly decorated nursery in their South London home.
THINKING ABOUT A COMMISSION
A bespoke Memory Box is a beautiful way to honour the the birth of a child, the memory of a loved one, or to celebrate a milestone in life, such as marriage or civil partnership, a big birthday or a retirement. Do you have a box of sentimental items hidden away? Dust them off and get in touch. Together we could create a unique piece of art that keeps memories alive and brings a smile to your face every day.